82nd Combat Aviation Brigade Today

82nd Combat Aviation Brigade current Modular Force structure. In 2006, the 82nd Aviation Brigade transformed to become the 82nd Combat Aviation Brigade. The 82nd CAB is organized as a medium CAB and shares this common structure with the aviation units in the 101st ABN and 1st ID. Major changes to the 82nd CAB include:
Conversion of 1-82 to an AH-64D Attack Recon Battalion
Addition of a Pathfinder Company to 2-82
Addition of 3-82 General Support Aviation Battalion with organic CH-47, UH-60, MEDEVAC, and Air Traffic Services. These assets were formerly members of 18th Aviation Brigade, C Co. 159th Aviation and 1-58th ATC
Conversion of D/AMC and assets of 4-159th Aviation to include the Bn HQ to create 122nd Aviation Support Battalion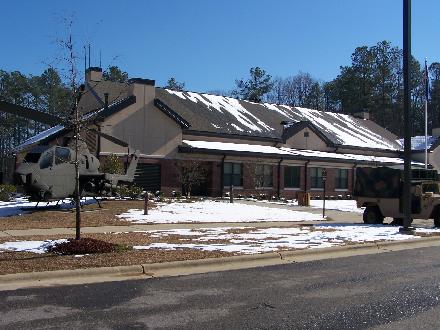 The front of the 82 Combat Aviation Brigade HQ located off of Longstreet Road on Fort Bragg

Along with the major overhaul of the 82nd Combat Aviation Brigade's structure, the 82nd CAB facilities on main post were replaced with new state of the art facilities. Follow this link to get a peek at the unit's new facilities.
http://www.hsmm.aecom.com/About/61/31/index.jsp

Disclaimer - DOD images, symbols, and insignia on this site are used only in reference to their official military unit; they are not logos or otherwise associated with the 82nd Aviation Association. Additionally, the appearance of external hyperlinks on this or any 82nd AA web pages does not constitute endorsement by the 82nd AA of the linked web sites, or the information, products or services contained therein.
Web Hosting powered by Network Solutions®